Sponsored By: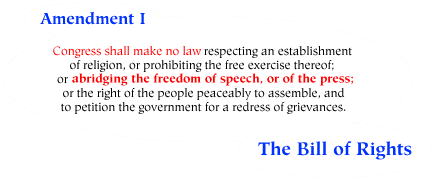 Welcome to The Censorship Pages. Here you will find information about the freedom of speech and of the press in reference to the written word. These pages provide the resources needed to explore how, and why censorship happens not only in the United States, but all around the world. I hope these pages are helpful and encourage you to get involved.
PLEASE NOTE: These pages were coded over six years ago as a resource for Bannd Books Week. Many of them are now no posted on the web or have moved to a new address. We are trying to correct any like we can and note others that are dead. If you can find the new URL for a dead link, or a substitute page, please let us know.



Every year, books in the U.S. and around the world are challenged. Some of the challenged books are banned, some aren't. The punishment for ignoring these bans range from almost nonexistent to severe. Here are some sites that deal with who bans these books, and why.
As an example of a just banned book, David Guterson's acclaimed book Snow Falling on Cedars has been banned by the South Kitsap School District in Washington state as an inappropriate and obscene book. Why it was banned is much deeper, as the book is written about the racism and anti-Japanese persecution during and after WW II on the Kitsap Peninsula. The book was banned because Kitsap is still a right wing, racist stronghold and they wish to block any recognition of their bigoted past and present.

Right now, there is little ability to censor the internet. Some people like it that way, and others are fighting to change that. While many pages are out there on this issue, each of the major sides have a "Ribbon Campaign". I haven't found a "Ribbon Campaign" for the pro-censorship side of the issue yet. If you know of one, please e-mail me.



There is more than one side to any story. This is more true with censorship of the written word than with most topics. You know where you stand on this issue, but what is your opinion based on? Is it based on fact and your morals, or on other people's morals? To help determine this, it is a good idea to find out what other people have thought on the issue. Here are some articles, essays and speeches that cover this issue from different side of the story.



Banned Books Week, an annual anti-censorship campaign, is held every September. There are several sites on the web dedicated to this cause. These sites can be very informative, or more on the "just so you know, I'm against book banning" type. Here are the best of these sites. These sites provide you with the information you need on starting your own Banned Books Week display and spread the word about book banning.



In the true spirit of freedom of speech and freedom of the press, here are some quotations on, you got it, freedom of speech and freedom of the press. To top it all off, these quotations are being placed here because of freedom of speech and freedom of the press. Enjoy.



Today, people think, "Censorship? It doesn't affect me?" or "I'm not into any of that stuff" and similar things when confronted with the issue of free speech. If you are on of these people, please take a moment to look around at this group of pages and ask yourself "Am I right?" You may be surprised. If you are, and even if you are not, think about joining into one of these discussion groups. Censorship is not only an important issue, but an interesting one as well.



Now you know what some of the banned books are, and why they are banned. Why not pick up a banned book or two today. The best judge on whether or not you should read a book is yourself. Do you think anyone else can be the judge as well as you, and should they judge? Also included here are books about censorship of the written word.



---
Created by Books AtoZ.

Send comments and questions to steve@booksatoz.com