Sponsored By: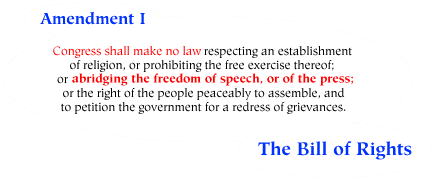 There is more than one side to any story. This is more true with censorship of the written word than with most topics. You know where you stand on this issue, but what is your opinion based on? Is it based on fact and your morals, or on other people's morals? To help determine this, it is a good idea to find out what other people have thought on the issue. Here are some articles, essays and speeches that cover this issue from a different side of the story.

On August 28, 2000 an article in the "New York Times" by David D. Kirkpatrick illustrated a new example of one of the oldest forms of censorship and book banning.
Banned Books Week 1997: A Case of Misrepresentation DEAD LINK, no alternative found.
A warning to practice what you preach. If you're for free speech, make sure you are not preventing it. This article on a new organization wanting to "restrict access to public library materials it deems inappropriate" is now not found, but we have redirected the link to People For the American Way Constituional Liberties page.
"Freedom To Read" DEAD LINK, no alternative found.
An essay on censorship of that which is written, both in the form of books and that of the internet.
Focus on the Family Calls 'Banned Books Week' a Fraud DEAD LINK, no alternative found.
Here is an article on American Library Association (ALA) Banned Books Week and what some feel it stands for.
Time Forum from Transcript from Wed. Sept. 24th, 1997 DEAD LINK, no alternative found.
A discussion with Herbert Foerstel, author of the book Banned in the U.S.A., about censorship. "But by far the most common type of censorship involves books quietly disappearing from libraries. Sometimes a parent who objects to a book but doesn't want to go through a formal challenge just slips it off the shelf. Frequently a librarian who may fear for her job removes a book that has become controversial." Just a taste of what this article holds.





---

Thanks for visiting The Censorship Pages! If you should find any of the links not working properly or have any suggestions, ideas, or comments, please let me know.