Instant Book™
Choose one of our production packages for your book from one copy to thousands. Low cost generic or custom quality.
Book Publishing Services
Writing, editing, design and digital layout service for your book project.
Translation Services
Trained, professional Spanish translation.
Regional Associates
Meet some of our regional experts and work with them directly if you are in their area.

Books AtoZ Pages
Information pages created by Books AtoZ to answer your questions and show how the web can work.
Access & Links
A large and useful choice of other sites on publishing.
Some links are dead.
Produced by
Books AtoZ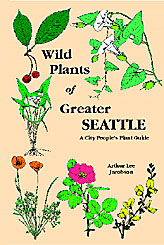 Wild Plants of Greater Seattle by Arthur Lee Jacobson is another of Arthur's magnificent, information-filled plant books. Published by the author.