Sponsored By: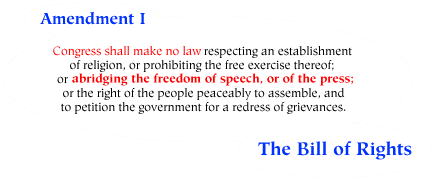 Today, people think, "Censorship? It doesn't affect me?" or "I'm not into any of that stuff" and similar things when confronted with the issue of free speech. If you are on of these people, please take a moment to look around at this group of pages and ask yourself "Am I right?" You may be surprised. If you are, and even if you are not, think about joining into one of these discussion groups . Censorship is not only an important issue, but an interesting one as well.


Banned Books and Novel Ideas Message Forum DEAD LINK, no alternative found.
This forum is for members from Elizabeth Burow-Flak, Dolora Chapelle-Wojchiehowski, and Persis Karim's E 314L Banned Books and Novel Ideas classes at the University of Texas at Austin


Banned Books Cafe DEAD LINK, no alternative found.
A place chat with others concerned with censorship issues.


Banned Books Forum DEAD LINK, no alternative found.
A place to discuss censorship, book banning and controversial publications.


BookWire's Banned Books Bulletin Board DEAD LINK, no alternative found.
A place to talk about book banning, sorted into sections. Bookwire was acquired by R.R. Bowker, the publishing services monopoly, and non commercial pages are now missing from their site.

Claire Jennings, the original editor of the Books AtoZ censorship pages offers discussions of banned book topics from time to time. Check this site for more information. The site is currently under revision and has no current posting.

A SFF net newsgroup for discussing Censorship.





---

Thanks for visiting The Censorship Pages! If you should find any of the links not working properly or have any suggestions, ideas, or comments, please let me know.