New Orleans has one of the most colorful histories of any city in the United States. It has changed national hands several times, birthed "the only truly American art form", jazz, and has long had a reputation for greed and vice. This history describes the roles Camarilla kindred have taken in the history of the city. Between the red hills of North Louisiana and the blue waters of the Gulf of Mexico, lives the Cajun. Among the marshes and the bayous, the tall oaks and whispering moss he carries on the traditions of his hardy Nova Scotian ancestors, les Acadiens, whose flight from persecution brought them to the lush South Louisiana soil over two centuries ago.



Schedules & Newsletters, Festivals, Venues & Dance Instructors, How to Dance to Cajun & Zydeco Music, Bands,Louisiana Culture,Mail Order & Record Companies, Photos, Features & Lagniappe, New Orleans & Commercial Web Links, Other Dance Links and Baltimore & Washington Links.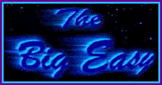 New Orleans...a unique and enchanting city! If you're planning a visit to New Orleans....or just want to experience the magic of New Orleans during Mardi Gras or any time of year, this award-winning site is the perfect way to get acquainted!
Louisiana Dance Foundation (LDF) is a not-for-profit corporation chartered in the state of Louisiana in 1984 for the purpose of providing educational and performance opportunies for area dancers.



The Louisiana Music Directory is the only complete listing of music businesses, services, bands, and musicians in the state of Louisiana. The LMD is completely updated every year, and contains current contact names and phone numbers for all listings. Additionally, entries in the LMD On-Line are updated continually.
The Louisiana Restaurant Association is one of the largest business organization in the state representing more than 4,200 restaurant operations and related businessess. The restaurant industry in Louisiana is the largest homogeneous retail employer with more than 115,000 employed. Restaurants have an annual impact of $3.6 billion on the state's economy.


IT'S MARDI GRAS! Experience New Orleans. Enjoy movies of Mardi Gras parade. See Mardi Gras Krewes of Orpheus and Zulu...and movie of Harry Connick as King of the Orpheus Mardi Gras parade. Order Randazzo's delicious kingcakes, New Orleans Mardi Gras artwork, the world famous Mardi Gras guide by Arthur Hardy, Mardi Gras posters and art signed by Anne Rice & Harry Connick. Welcome to N.O.net: Destination New Orleans, a travel site devoted to the nation's most unique city. It covers New Orleans: Bourbon Street, Jazz Fest, Mardi Gras, Creole and Cajun food, the French Quarter. Your Big Easy adventure is just a click away at Destination New Orleans, where every day is a festival and the music never ends. (But beware: If you visit New Orleans, the BourboCAM might make YOU a part of the action!) All about the New Orleans and Cajun Country Newsletter, with links to other related sites, information on the colums and ordering information. Also check out The New Orleans and Cajun Country Newsletter. A Louisiana On-Line Magazine. You can view the newsletter on-line, including back issues. Also, you can sign up to receive it via e-mail and it's all free! The New Orleans and Cajun Country Newsletter is a creation of Nick Cognevich, Jr and he is wholey responsible for its content. The New Orleans Connection is focused on New Orleans and South Louisiana tourism and culture. Make hotel and dinner reservations, book sightseeing tours or learn about the local culture and customs. If you are not planning a trip to New Orleans but find yourself craving a taste of the unique culture, we offer an extensive shopping section including world famous Cafe Du Monde's coffee and beignets, fresh Louisiana seafood or Mardi Gras merchandise all shipped to your front door. Take some time and look around. OffBeat Magazine is New Orleans' and Louisiana's first music and entertainment magazine. Published every month, OffBeat contains interviews and features on the music and musicians in the nation's most musical city, as well as the city's most comprehensive club listings, Louisiana Music on Tour, Jazz Fest information, and dates of Louisiana fairs and festivals.









Other AtoZ Resources





Created by Books AtoZ.

Send comments and questions to steve@booksatoz.com