Lasergraphics Portfolio
Here are a few of the projects we've done. Although we have chosen to feature mostly book projects on this page, we do a wide range of prepress work. Included on the list are newsletters, newspapers, flyers, brochures, business cards, logo designs, scans for all types of print output and web work.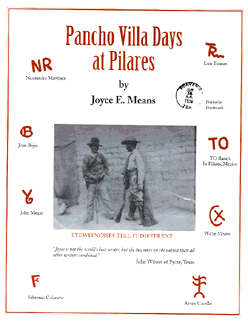 Pancho Villa Days at Pilares is a history of incidents on the old Texas/Mexico border written by Joyce Means. It is filled with over 400 photos, most of which were very old and tattered and in danger of being lost forever. Lasergraphics did the design, scanning, halftones and typesetting, along with some illustrations of various cattle brands of the time.


---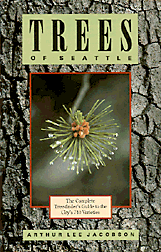 Trees of Seattle and Trees of Green Lake are two of the most complete books on the subject of trees and tree identification for the Seattle area. The author, Arthur Lee Jacobson, is a native of Seattle, and has been studying the trees of the area for years. It took over 5 years to gather the information for Trees of Seattle alone.
Lasergraphics worked on the developmental design ideas,and many of the scans for Trees of Seattle, and did the design and typesetting for Trees of Green Lake. The cover of Trees of Green Lake was a joint project of Arthur Lee Jacobson and Lasergraphics.


---
Some of the web sites designed by the staff at Lasergraphics
Antiques AtoZ is an interactive marketplace of services and resources for dealers, collectors, and connoisseurs of fine antiques of all styles and periods.

Robert Ashbaugh Photography has been a professional photographer and designer for 15 years and is now located in Tucson, Arizona. He operates a full service business specializing in publication and location photography for corporate/industrial clients (especially the Environmental Industry) and natural history with special emphasis on birds. He maintains an extensive stock library with stock representation by Tony Stone Worldwide. Computer generated images are marketed by Books AtoZ of Seattle, and fine-art photography is marketed by Seattle Art Resource.

Books AtoZ is an international resource site for the design, production and publishing of books. We offer information on publication services along with links to other useful sites around the web.
Books AtoZ is also a full service provider for the design and hosting of web pages. In addition to offering links and information, our Serif & Pixel Press is exploring methods of publishing on-line, including design variations and mixing of media.

Home and Garden AtoZ

Permalin, a family owned business for more than 30 years, is a major supplier of cover and endleaf materials to book publishers, printers and manufacturers. While the book industry makes up a good portion of Permalin's business, Permalin's products are also used for a number of other applications: desk accessories, diaries, game boards, slip cases, annual reports, yearbooks, field guides, photo albums, disk sleeves, catalogs, and box wrap.

Puget Sound Computer User is one of three publications published by KFH Publications along with Cybernautics Digest and Internet Voyager. Computer User is Western Washington's regional source for computer and internet information. Cybernautics provides a comprehensive overview of articles covering converging information technologies. Voyager provides useful information about the Web and the Internet, including tool and site reviews.

Serif & Pixel Press is the innovative publishing branch of Books AtoZ. It exists to post creative publication ideas on-line and to publish important works not otherwise available. Among the techniques being used are calligraphy, photo-art collage, video, audio, interactive and hyper-linked pages to provide omni-directional flow of content. We welcome communications on what we do and suggestions of new directions for us to publicize.



---