An Exhibit on Fishtown and the Asparagus Moonlight Group will be held at:
Kobo at Higo
May, 2006
Where the River Ends will be released at the show.
---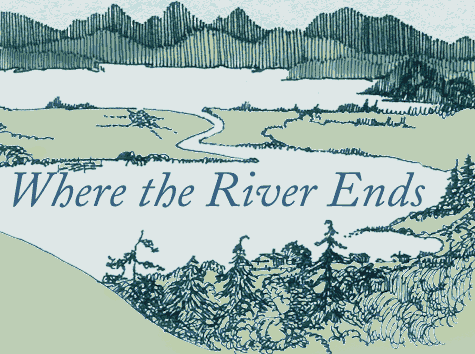 A publication of the art, poetry & life of Fishtown & the Skagit delta.
Publication date Spring, 2006.


We are very interested in gaining access to any photos, art, poems or other works by or about the artists of this area, as well as personal stories and reminiscences. Please contact the editor if you can help.
Steve Herold, editor
Contact Editor
---
Part One
Memories of a Time Past & Present -- That Never Was & Always Is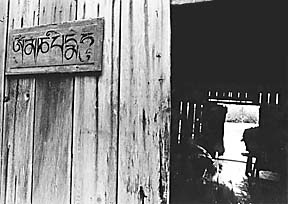 A view through the "Temple" as Charlie termed it. It was originally an old boathouse that had been cleaned up for community gatherings, zazen sessions and guest house. The summer inhabitants were mostly swallows, although as Fishtown gained in fame the list of laid back visitors gave strong competition to the swallows. Charlie painted the Tibetan script name board, an obvious choice in our oriental and Buddhist influenced community. It was in the earliest days of the Fishtown community that Charlie also printed and gave away 1,000 copies of the Dalai Lama's Short Treatise on Buddhist Practice. In recognition of this act of merit the Dalai Lama's brother met with Charlie and gave him an ancient Tibet bronze seal of the conch — the call to prayer in a Buddhist monastery. This became the seal of the Fishtown scribe, and I keep it yet.

---
The Beginning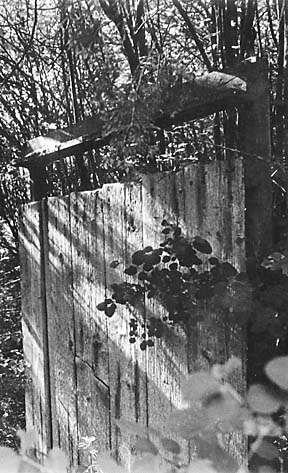 LEAVING FOR THE CITY IN THE RAIN
Off the hill from the shack,
Down the path in mud
And limp leaves caught upright
In the footprints of those who have left before me,
I come slowly out of the woods laughing
Like a Chinese madman on an ancient screen.
It's winter.
The trees are cold.
They scratch like long grey fingers.
Slipping further down
To the plank laid cross the road,
I dance over it
Picking my way through more mud
Towards a piece of dry ground.
There standing still and not sinking
I listen to the earth in its bath
Hum fractions of wet song to itself.

Charles Krafft
This is the gate at the top of Haller HIll on the path to Charlie's cabin. It was also here that Charlie posted his "Visitor's Welcome on Sundays at the Dharma Raja Satang" sign.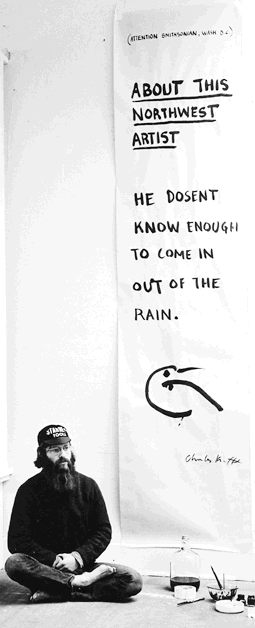 Charlie was the first of the Fishtown artists in the hermetic tradition. Such spartan simplicity was too perfect to last for long. First Tom Skinner moved in down the boardwalk, enjoying the cheap rent and unlimited water. Charlie and Tom formed the short lived River Moth Candle Company to raise money at the Anacortes Art Festival. Tom left the next winter as the cold and damp moved back in, but a long list of visitors came to visit Charlie and admire the ambiance. Ultimately we began to stick and fill up the Fishtown cabins.

---
Other Fishtown Links
To see more of Charlie Krafft's work look at his Villa Delirium Home Page.

A Journal of Northwest Art and Literature
Dedicated to the appreciation of poetry, fiction, painting,
literary criticism, drawing, sculpture, music, movies, video,
but not exclusively that produced in the Pacific Northwest

Contains a charming Fishtown travel story entitled
True Short Story:
North Fork Skagit River Reverie